Tree removal is a specialized area of service we offer to our clients in the Las Vegas Valley – from North Las Vegas to Henderson and Boulder City.
We utilize state of the art machinery to complete these jobs in a safe manner. Our professional tree removal crews remove the tree(s) and all debris – but we can leave the firewood if you prefer.
– Tree removal is very important to consider when trying to maintain the value of your property.
– Removing certain trees that may be crowding and harming other trees can enhance the beauty of your property.
– Dead or dying trees are hazardous and should be cut down properly and removed safely by a professional.
We are Experts in Palm Tree Removal
Palm trees are tough, sturdy and resilient – hence removing them – especially older or tall ones – should be left to the professionals.
We employ experienced tree climbers and trained bucket truck operators to perform any type of tree removal – including palm tree removals – in and around Las Vegas.
Crew Member Getting Ready for Large Palm Tree Removal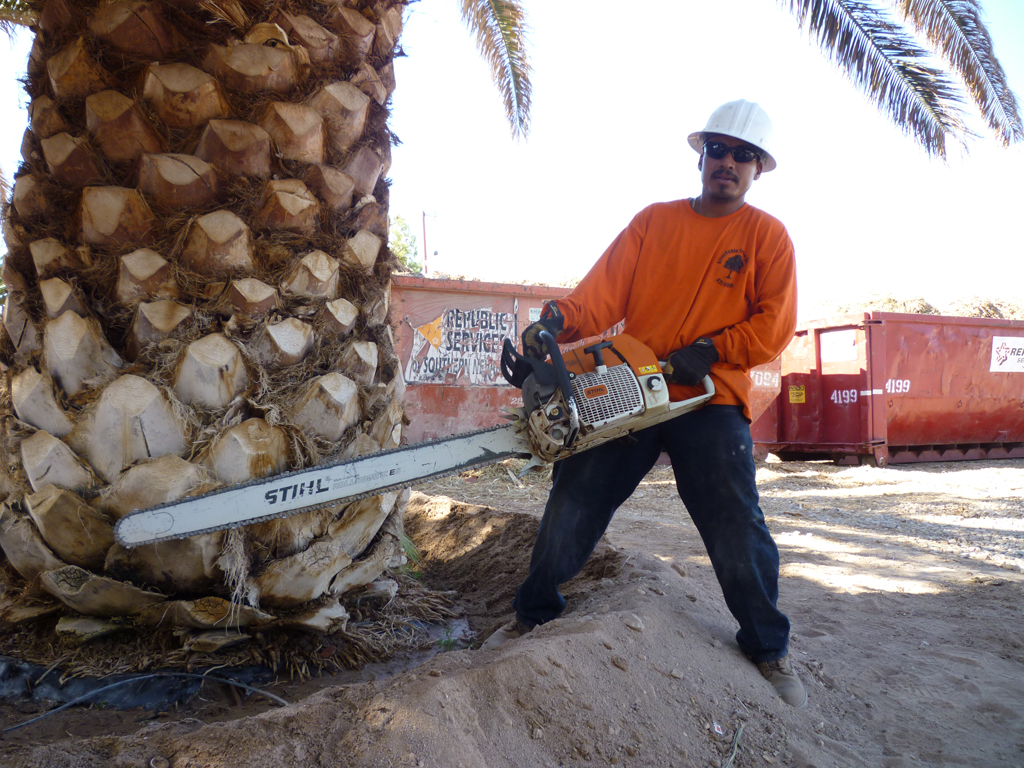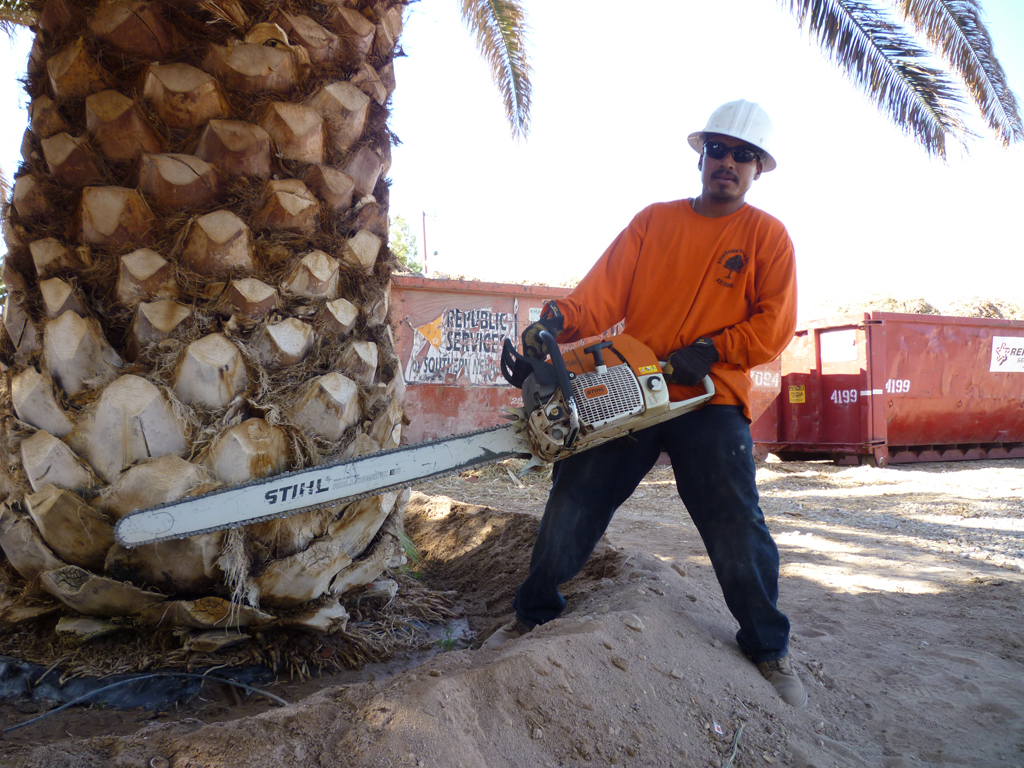 Tall Palm Tree Removal at Luxor Hotel & Casino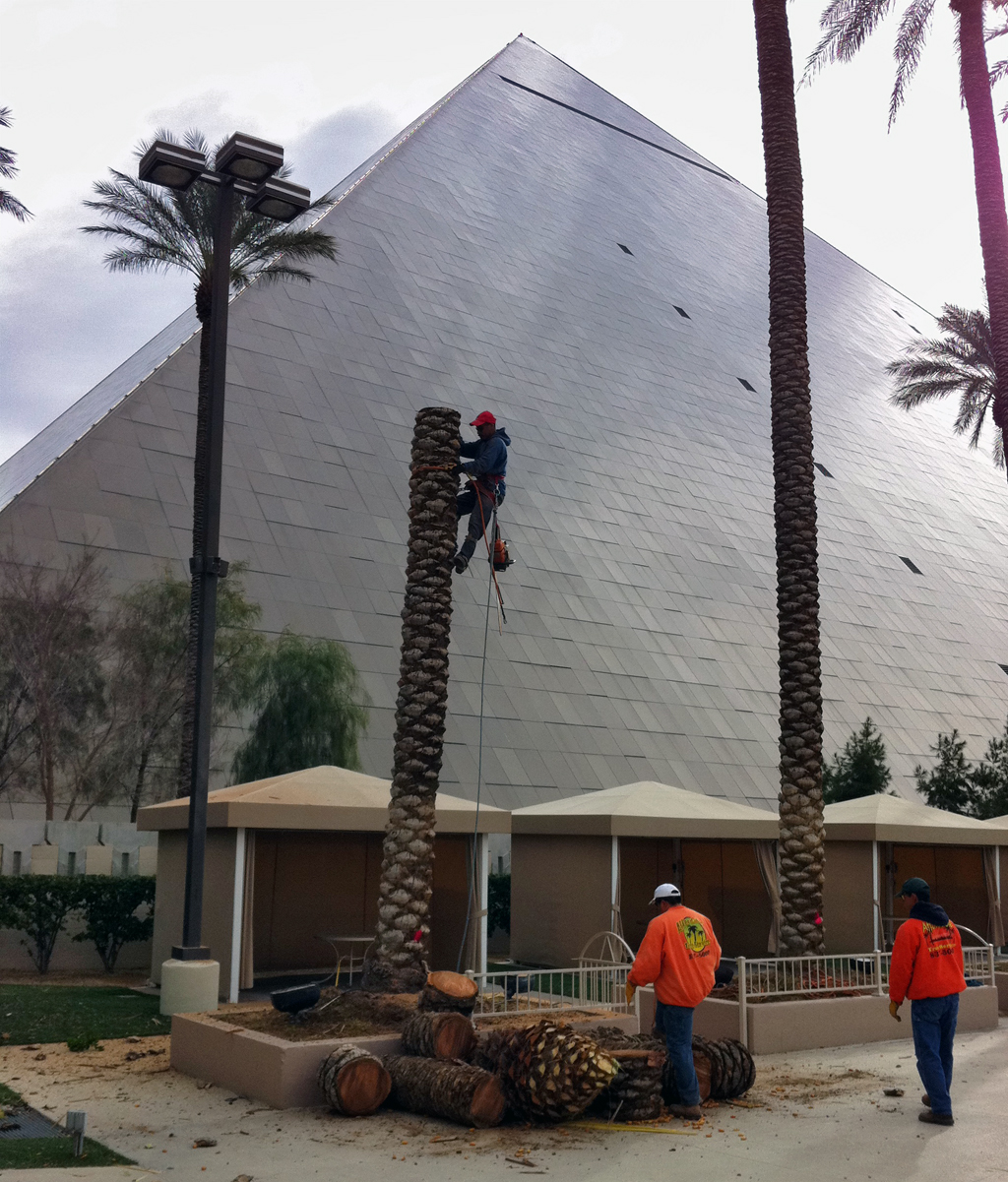 But we don't only remove palm trees – we remove any and all trees – including Pine trees, Oak trees, Olive trees, African Sumac trees, Oleanders, Juniper trees, Mulberry trees, Plum trees & any other tree you might have on your property.
Reasons for Tree Removal:
Trees in Las Vegas are removed for a variety of reasons including decline, death, safety hazards, and public construction.
Trees outgrowing a safe area
Dead, dying, and diseased trees
Trees with cracks and splits
Trees split, damaged, fallen or uprooted by high winds or a storm
Trees with dangerous or destructive roots
Trees damaging the house or concrete
Cleaning up leaves is overwhelming
Staining pool or too much debris blowing in pool
Because tree removal is a delicate yet dangerous job Affordable Tree Service places safety as our first priority. Our team members attend weekly safety meetings to protect both themselves and our clients. Our arborists remove trees using the latest techniques to ensure an effective job.
A typical tree removal includes brush chipping and hauling off logs. Stumps can be ground depending on customer preference. We are fully insured for your protection. Although tree removal is usually a last resort there are situations when it is necessary.
Our arborists can help you decide whether your tree should be removed as they have the skills and equipment to safely and efficiently remove trees.
For a free estimate please call Affordable Tree Service at 702-837-5000 or
Request Your FREE Estimate Today →
Storm & Wind Damage – Fallen Tree Removal:
High winds and fierce storms are more common in Las Vegas than you might think – especially in the spring. Hurricane-strength wind gusts over 75 mpH unfortunately wreak havoc on many trees. Trees get damaged, split, uprooted or simply knocked over, damaging property and blocking roads.
Affordable Tree Service safely and quickly removes fallen or damaged trees – including clean-up and haul-away of all debris.
Dead Tree Removal / Diseased Tree Removal:
For a free estimate please call Affordable Tree Service at 702-837-5000 or